This post isn't crafty or baby/kid related at all...it's all about you mommies! Who doesn't love something pretty for themselves? Can you remember the last time you treated yourself to something purdy? I do...it was Mother's Day and I am counting down the days til it arrives. Have you seen this picture on
Pinterest
? I loved it! Striped teal shirt, peach sweater and that amazeballs necklace! (stole that from Bill & Giuliana Rancic, you know you watch their show too.)
So...I clicked on the link that accompanied the picture and it took me to someones tumblr or picture whatever...what I'm saying is it didn't take me to the source. I truly
hate
don't like that all! It then becomes a scavenger hunt. Have you experienced this before on Pinterest? What do I do? I then search yellow necklace on Pinterest and thankfully this lovely thing showed up. I clicked at least three of the same picture and FINALLY found the correct source. (Can you tell I was on a mission?) Extremely long story, short...I bought this beautiful yellow necklace.
Now for the splurge vs. thrifty part. How much do you think this necklace is?
Wait for it, wait for it...$49! And you can find it
here
at
IlyCouture
I just can't get over the resemblance it has to the j.crew necklace that costs $150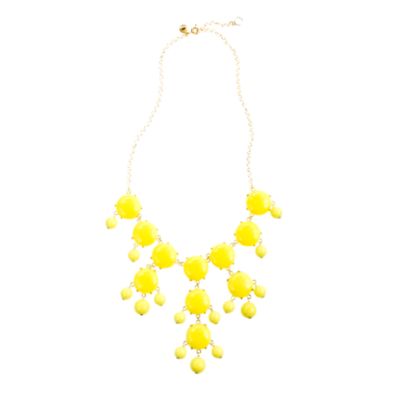 which can be found
here
if you want it... personally (this is my opinion) I'd rather support an Etsy shop.
So how many of you are going to run and purchase one from Ily Couture? She has sooo many other beautiful colors. My next purchase from her will for sure be the turquoise one!
Happy Friday everyone, hope you enjoy your long weekend!